CTLK ĐH Hawaii at Manoa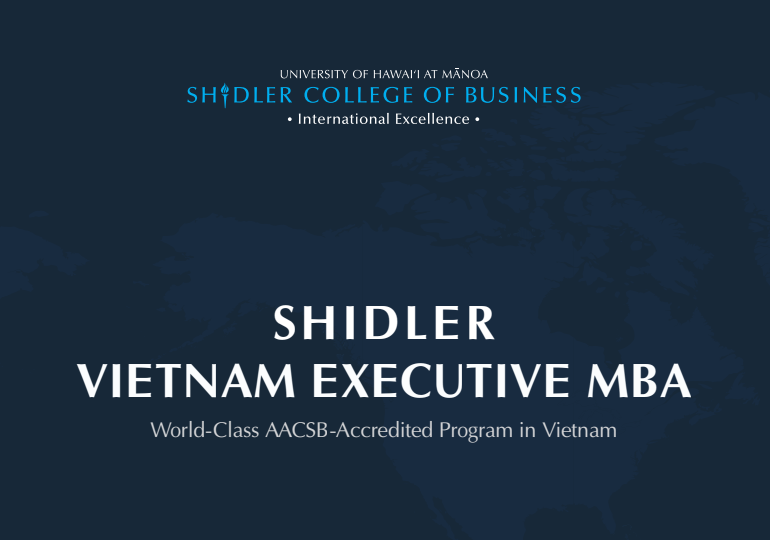 As Vietnam emerges fully onto the world economic stage, new and constantly-evolving demands are placed on business executives in all industries. To successfully manage these challenges, today's executive must possess strong analytical skills, the ability to think strategically, and effective leadership capabilities.
To meet these challenges head on, the University of Hawaii, Shidler College of Business has partnered with the International University - Vietnam National University HCM City to deliver its first-rate Executive MBA program that will train, guide, and prepare Vietnam's top executives who want to elevate their management skills.
This 21-month, executive format program allows participants living in Hanoi or Ho Chi Minh City, Vietnam to maintain full-time management positions while earning their degree. Students will learn from an integrated, modern curriculum that incorporates core business disciplines with cutting-edge business practices including: innovation and entrepreneurship, management of information technologies and e-business, supply chain management, wealth management, and branding. All classes are held in Vietnam with an optional summer study at the University of Hawaii at Manoa in Honolulu, Hawaii, USA. A key feature of the program is the Business Practicum project allowing students to engage in real-life consulting.
MBA for Executives in Vietnam program has already proven to be immensely successful in advancing many graduates' careers for the last 17 years in Vietnam. With more than 600 alumni holding key business positions in all economic sectors in Vietnam and worldwide, MBA for Executives in Vietnam offers one of the most valuable business networks.
Thus, with their degree from the University of Hawaii, MBA for Executives in Vietnam graduates will be able to demonstrate that they have the confidence and skills to compete for top executive positions, not only in Vietnam but anywhere in the world.
OUR PROGRAM DETAILS
Demonstrate and apply knowledge of the functional areas of business (best business practices)
Communicate effectively in writing and oral presentations and teamwork
Understand and apply management skills to the Asia-Pacific business environment
Identify and analyze complex ethical and legal issues
Demonstrate understanding of the impacts of technology on business
Highly Ranked - The University of Hawaii Shidler College of Business is renowned for its expertise in international management and ranked among the top 25 graduate schools in the US for international business by U.S. News & World Report.
AACSB accredited - The only AACSB-accredited MBA program in Vietnam which assures a high-quality, relevant, and internationally-recognized MBA.
Top Faculty - All classes are taught in Vietnam by University of Hawaii, faculty who travel to Vietnam to deliver their instruction and course material face-to-face. Faculty use a variety of interactive teaching formats and methods designed to engage and challenge experienced business leaders.
Asia-Pacific Focus - A pioneer among U.S. business schools in international business, the University of Hawaii distinguishes itself through its focus on the Asia-Pacific Region The Shidler School of Business's faculty have a research focus in-depth knowledge of Asia-Pacific issues and practices.
Extensive Alumni Network - There are nearly 30,000 University of Hawaii Business School Alumni living in 40 countries around the world. The Vietnam Executive MBA program has been in operation in Hanoi since 2001, in Ho Chi Minh City since 2007 and has developed an established senior alumni network across Vietnam.
Flexible Schedule - Executive MBA classes are conveniently scheduled at night and on weekends to allow busy professionals to attend class, and continue working full-time, while achieving an MBA degree in 21 months.
Convenient Location - Classes are held in modern facilities in Ho Chi Minh City and Hanoi, major centers of commerce, finance, culture and tourism in Vietnam.
Rigorous Curriculum - Faculty and curriculum that challenge students to solve complex business problems in a global environment, apply strong analytical and strategic thinking to multifaceted business issues, and to develop sophisticated management skills.
Diverse Executive Students - Vietnam citizens or foreign nationals living in Vietnam are welcome to apply with classes typically made up of 35-40 students from around the world with an average of 5 to 10 years of work experience.
| Program | Interviews | Official Program Kick-off with Residence Weekend Retreat |
| --- | --- | --- |
| HCM City | Scheduled once application is complete | Oct. 11, 2019 |
| Hanoi | Scheduled once application is complete | Oct. 18, 2019 |
Bachelor's degree (Must have completed a 4 year degree from an accredited or recognized university)
TOEFL iBT Score of 61 or IELTS Score of 5.5

At least TOEFL iBT 61 or IELTS 5.5 for the program entry. Test scores must not be older than two years from the test date. The TOEFL/IELTS is waived for native English speakers and may be waived for undergraduates who have received a bachelor's degree within the last five years or an advanced degree from an accredited/recognized college from an English speaking institution. Any admitted student who does not earn above a TOEFL iBT 100 or IELTS equivalent of 7.0, will be required to take two English courses offered in the MBA for Executives in Vietnam by the University of Hawaii's English Language Institute (ELI).

Minimum five years of post-baccalaureate, full time work experience
Two letters of recommendation
All MBA applicants must submit two letters of recommendation by using the letter of recommendation form. The letters may be written by the applicant's current employer or by one of the applicant's previous professors. The letters should be written on company/university letterhead and sent in sealed envelopes. Only printed hard copies will be accepted by mail or drop-off. Letters of Recommendation may NOT be submitted electronically or via email.
Application fee of US $100
Personal interview and essay
Step 1: Application
Please fill out and submit the Graduate Admisssion Application Form to begin the process. Below are some tips when filling out the application.
Help to expedite the application process email unoffiical transcript(s), test scores, and the additional documents listed in Step 2. (This is Not Mandatory)
Official transcript(s), test scores, and documents listed in Step 2 that were not emailed should be mailed/emailed to our offices in Vietnam or Hawaii.
To submit your application, you may pay using the credit card authorization form at the end of the application or make arrangements to pay by cash at the MBA for Executives in Vietnam offices in Hanoi or HCMC.
Print a copy of your application after you submit it for your records.
Please contact our Admissions Team if you have any questions about the applciation process.
Step 2: Submit Supporting Documents & Application Fee
Official Degree Certificate(s) and Transcripts
A) Degrees from Vietnamese institutions or other non-English speaking institutions:
1 notarized copy of the native language degree certificate(s) and transcript(s). Please note that transcripts of each year or stage are required.
1 notarized copy of the English translation of the degree certificate(s) and transcript(s)
B) Degrees from English speaking institutions:
Official transcript(s) must be sent directly from the issuing institution(s) to Vietnam Admission Offices
1 copy of your TOEFL or IELTS ScoresMost applicants whose native language is not English are required to take either the TOEFL or the IELTS. A Minimum TOEFL iBT score of 61 (paper/computer/internet) or IELTS of 5.5 must be met to be eligible for admission to the program. Test scores cannot be more than two years old. TOEIC is not acceptable. TOEFL/IELTS official result should be submited to Vietnam Admission Offices except for TOEFL iBT, which should be sent directly to the Admission Office in Hawaii. Its Educational Testing Service (ETS) code is B187. The official score must be received by the application deadline above.
Resume
Application fee of US$100 (Non-refundable)
Step 3: Attend an Interview and Submit an Essay
After receiving your complete application, we will invite you to our office in Hanoi or Ho Chi Minh City for a personal interview. At this time, we will also ask that you complete a short essay.
The tuition fee for our Executive MBA program in Vietnam is $480 per credit or ($23,040 for the program with 48 credits). This tuition does not include the cost for textbooks & copyrighted materials (about $300 for the whole program) and the two advanced English courses ($550 x 2 courses) for students with IELTS below 7.0 (but >= 5.5). Tuition can be paid course by course or by semester.
Apart from AACSB accreditation, world-class professors, high-caliber students, rigorous curriculum, one of the factors that make our tuition fees higher than others is our logistics support. Our program starts with a 3-day Residence Weekend retreat in Vung Tau offering students accommodation, transportation, food, and conference facilities. We also cater refreshments and snacks at all tea/coffee breaks plus lunch for Saturday classes throughout the 21-month program.