The procedure of online graduate services including:
1.Log in the http://edusoftmaster.hcmiu.edu.vn, choose "Requests".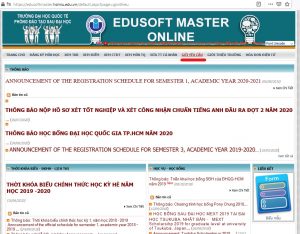 2.Select the appropriate tag for request.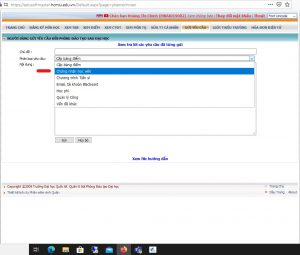 3. Fill the information as instructed, send the request, and wait for response via email or mobile phone.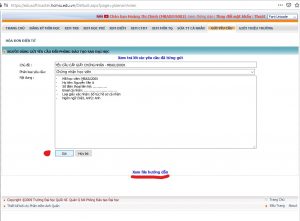 4.Receive the results and pay the fee in the University's campus (if yes).
Instructions:
You should request for graduate services by selecting the appropriate tag and fill the information, such as the title and content as following. There will be a reply in the notification of the Edusoft Master account or email after receiving the request:
1. Academic transcript request:
Notes:
Fee for academic transcript request: 5000 VND/transcript.
Duration: 3 days after receiving the request.
Title: REQUEST FOR ACADEMIC TRANSCRIPT – CANDIDATE ID
Content:
Candidate ID:
Full name:
Mobile:
Personal email:
Types of transcripts (accumulative/graduated):      Quantity:
Location for receiving the transcripts:

Thu Duc Campus (08h15 – 15h45, from Monday to Friday)
234 Pasteur Campus (17h45 – 20h00, from Monday to Friday)
2. Certificate request:
Notes:
Candidates must complete the graduation conditions and submit the graduation document to Office of Graduate Affairs for a temporary graduation certificate.
Duration: 5 days after receiving the request.
Title: REQUEST FOR CERTIFICATES – CANDIDATE ID
Content:
Candidate ID:
Full name:
Mobile:
Personal email:
Types of certificates (military education, visa application, personal profile, graduation confirmation, others)
Language (Vietnamese/English):
Location for receiving the certificates:

Thu Duc Campus (08h15 – 15h45, from Monday to Friday)
234 Pasteur Campus (17h45 – 20h00, from Monday to Friday)
3. University email or BlackBoard account:
Title: REQUEST FOR PASSWORD RESET OF EMAIL/BLACKBOARD ACCOUNT – CANDIDATE ID
Content:
Candidate ID:
Full name:
Mobile:
Personal email:
Reset password of email/BlackBoard account:
4.Others:
Title:  REQUEST FOR … – CANDIDATE ID
Content:
Candidate ID:
Full name:
Mobile:
Personal email:
Request: ……………………………